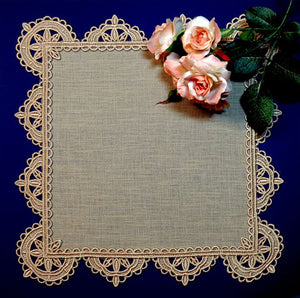 E467 Veronica Half-Square Edgings 2
467 Veronica Half-Square Edgings 2
These are beautiful freestanding lace edgings.  They can be combined with our other Veronica collections, E465, E466 and E468 to create gorgeous tablecloths.
Each set has combined designs for large hoops.
All individual designs fit 4"x4" hoop.
Suggested combinations. Follow the link below to see which sets are needed for these and other projects.
Click here for file illustrations and ideas for using these designs!
---
We Also Recommend
---