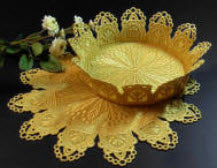 E482 Bowl 7 & Coordinates K-Lace™
482 Bundle K-Lace™ (28 files)
Squares and Edgings. May be stitched in 4x4 hoops or larger. Some composite edging pieces need larger hoops. Edging approx. 2" wide. Squares 2.65". 

Edgings are included in 1, 2, 3, 4, 5, 6, and 7 sections. The plain squares are included in multiples of 2, 4 and 6.
E482B
Doilies stitch all-in-hoop. Fabric and fsl doilies (left and center) require at least 6.25" x 6.25"  (stitch field) hoop. Square (right) requires at least 5.6" x 5.6" (stitch field) hoop.
E482 Bundle contains all files shown.
---
We Also Recommend
---